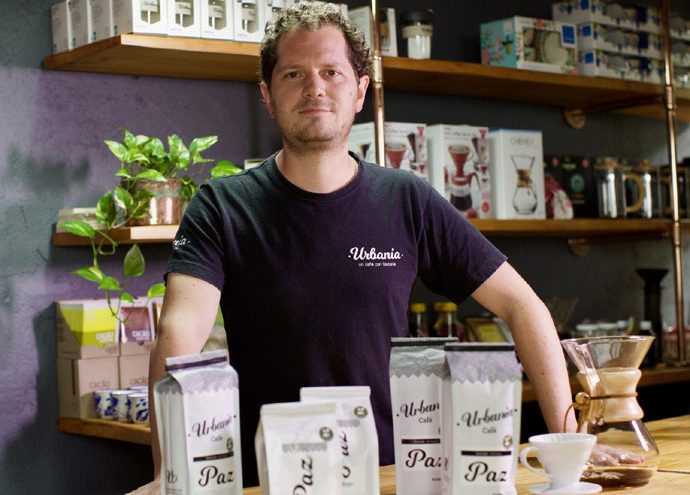 RICARDO RESTREPO | FOUNDER OF URBANIA CAFE
Urbania Cafe is a B Corp looking to impact socially, economically and environmentally in Colombia. We use coffee as the tool to make this impact.
We have projects such as substitution of crops, victims of violence, protection of bears and jaguars, organic coffee, among others.
We work directly with the growers giving them quality assistance to produce high quality specialty coffee.
"We impact the world through coffee, making every cup count."
– Ricardo Restrepo
We work with small coffee growers that impact SDG 10 (reduction of inequalities), SDG 12 (Responsible production and consumption) and SDG 15 (Life on land).
Urbania works with NGOs and non-profits on these social and
environmental issues to have a broader impact.
We are aligned with the peace agreement signed in 2016 in Colombia, we decided to work with families who are victims of the armed conflict.
Our coffee is part of a conservation strategy that focuses on protecting wildlife corridors, where spectacled bears live. The producers who produce this coffee have signed conservation agreements to help preserve these strategic ecosystems. The spectacled bear is the only bear in South America considered an 'umbrella species'. By protecting them we protect many other species.
Urrao is a very important region for us, mainly because we have partnered with our fellow coffee growers to reinvest a very important part of the fair-trade deal in reforestation projects that help maintain the Andean Bear corridor. The project aims to improve the livelihoods of young farmers and encourage them to work the land.
Our coffee comes from a sustainable shade plantation that does not use pesticides. The coffee growers preserve the natural resources of the area, with varieties such as Bourbon, Geisha and Castillo.