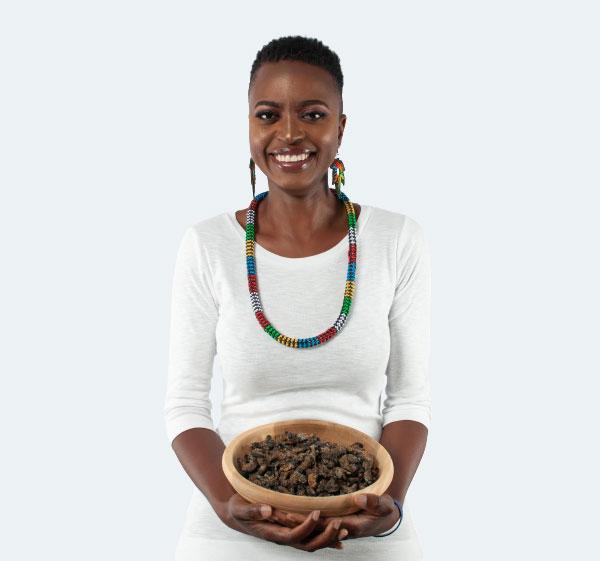 WENDY VESELA NTIMBANI | FOUNDER OF MATOMANI
Matomani is a South African company using purest protein from the indigenous edible Mopani caterpillars. Matomani means 'mopani caterpillars' in my native Xitsonga language. I grew up in a rural village called Kheyi Village in Limpopo Province, Northeast of South Africa. Mopani caterpillars are a natural resource in the area. The locals have been harvesting and consuming this edible insect superfood for many generations. It has and is still a great source of nutrition.

Kheyi village and the surrounding villages where the mopani caterpillars grow are rural communities that live in impoverished conditions ($36 per month, statssa report,2022). There is very little employment and/or economic activities in this area. People in these areas rely on their grandparents or the elderly in the family that qualify to receive a government social grants ($109 per month, qualifying age is 60 years, www.sassagrants.co.za), which is not even enough to feed many family members.

Matomani was established out of how do I eliminate poverty for the community members where I grew up? How do I break the cycle of poverty for my community? How should I empower, educate and up-skill the community members to earn a decent living? How should I create economic and social inclusion? The answers came in a form of the edible insect superfood mopani caterpillars that the community members have been harvesting for generations.

Mopani caterpillars are a natural, organic, non-GMO raw material that has the purest protein 60%, high fibre, high iron and all essentials amino acids that a necessity for optimal health. Matomani creates employment for the local community thru the supply chain of mopani products. Matomani works with local harvesters to harvest the mopani caterpillars and procures the mopani raw product at a fair trade price from community members. Matomani empowers and gives training to local community on the importance and benefits of mopani caterpillars, the environment and preserving of and the mopani tree.

Lastly a portion of the profits are invested in the local communities where the mopani caterpillars are harvested.

When you are buying the Matomani products, you are supporting remote rural communities to earn a decent living and you bring dignity to people's lives. You also support people that care about ecosystem and understand the importance of looking after the environment for future generations.

"Empowering people whom are less fortunate in life for me means I live my purpose in this life. Every human being deserves to live with dignity and have the power of choice, not limited by circumstances of not having opportunities because they are living in remote rural areas."
– Wendy Vesela Ntimbani



DECENT WORK & ECONOMIC GROWTH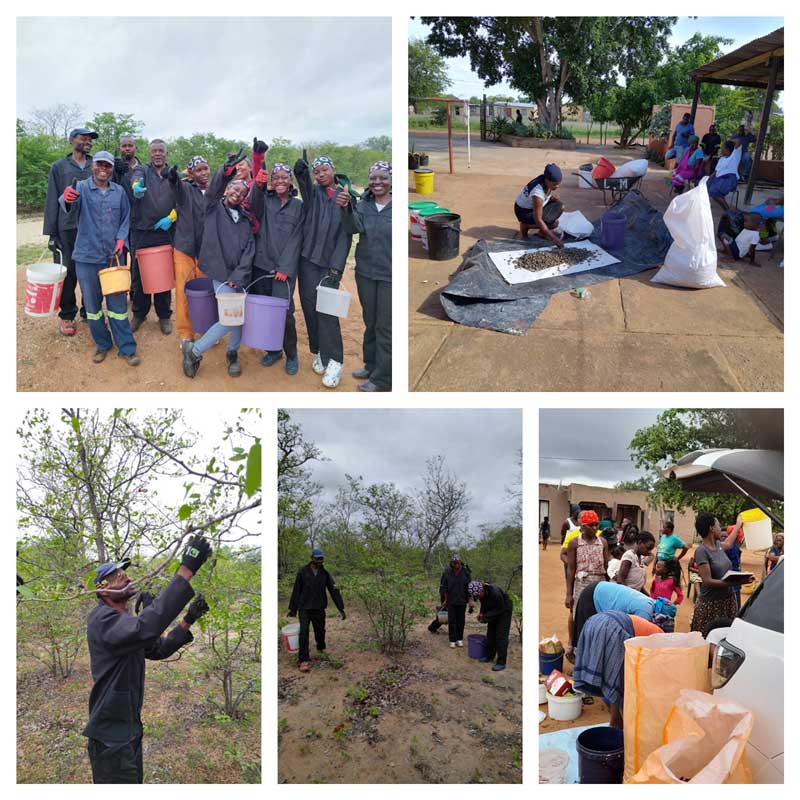 Our mission is to improve lives of rural communities, protect and preserve the environment. Mopani caterpillars are a source of organic nutrition. They are high in natural protein (60%), Omega 3, vitamins, and minerals. They have low impact on resources and the environment by emitting less greenhouse gases, they require less water and space. Mopani caterpillars are sourced from rural Limpopo province, South Africa where there are Mopani trees.
In order to source the raw product we employ a workforce of people from the local community/villages. We employ mostly women, young people and some men. Matomani employs community members, provide training to upskill them, and give them training on the importance of food safety and handling, protecting the environment and local resources.
We have also partnered with local communities where Mopani caterpillars are sourced, to create trade opportunities that focus on poverty alleviation and more secure livelihoods for the local community. We are creating and building a network of subsistence harvesters. We bring economic inclusion opportunity to the rural and remote people.
Community Members Employed
Subsistence Harvesters Traded